And brace yourselves, folks, it's none other than the always-gorgeous and ultra-classy Brenda Jean!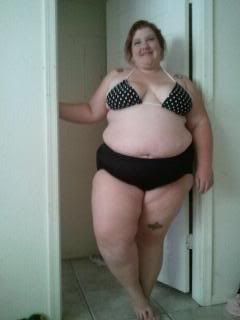 This was taken just after she bought it.  She says "This top is mostly for um, NOT running around!"  Aw, c'mon Beej, why not?
And wow, check her out now!  She's gone from Goddess to Bronzed Goddess!  Yes ma'am!!!
The ensemble is from Wal-Mart.  The top is an XL with the padding removed.
I tried this trick and I still don't feel quite comfortable moving around in it myself.  However, I bought some tops tonight, two matched sets of the same color triangle top.  One set is both the same size, the other is on L and one XL, but I'm pretty sure I know how to deal with this.  Rose and I discussed some Fatkini Alchemy the other day involving two of the same top, the underwires out of an old bra, and prayer.  I'll likely get started on this project in the next day or two and hopefully have pics soon, win or fail!
Also, I plan to add reviews of my various fatkini bits and the sources from whence they came over the next week or so.  Joy!
We'd love more submissions!  Email homegrowngirlie @ gmail.com.
*SMOOCH!*
<3,
Julie's Belly